With the arrival of summer, our focus shifts to life outdoors. Enhancing your outdoor space presents an opportunity to fully embrace the summer lifestyle and enjoy an area of your home that was less accessible during the colder seasons. Whether you make subtle adjustments to your Fairfield real estate like incorporating a fire pit and outdoor seating or opt for more significant changes such as constructing an outdoor kitchen or a pool house, these optimizations can transform the way you gather and create memories in your space.

Well-designed outdoor spaces are highly sought after and can significantly increase the appeal of your property. Potential buyers or renters often prioritize these spaces when considering Fairfield homes for sale, making it a valuable asset in Fairfield real estate.

Below are a few impactful ways to elevate your outdoor space with luxurious features for both your enjoyment, and future resale value:
1. Host the best dining experiences with an outdoor kitchen
One of the greatest advantages of having an outdoor kitchen is the ability to spend quality time with guests or family members while preparing meals, rather than being confined indoors.

When installing or upgrading an outdoor kitchen, it's important to consider the essential features required to meet your needs and preferences. For instance, incorporating a well-equipped grilling station with side burners, a functioning sink, and ample counter space for outdoor food preparation, can facilitate a seamless cooking experience without the need to retreat indoors.

To further enhance the space, consider a pizza oven, wine fridge, and other high-end appliances. The inclusion of a wood fired pizza oven, in particular, is a definite crowd pleaser for both kids and adults!
2. Make your fire pit a gathering destination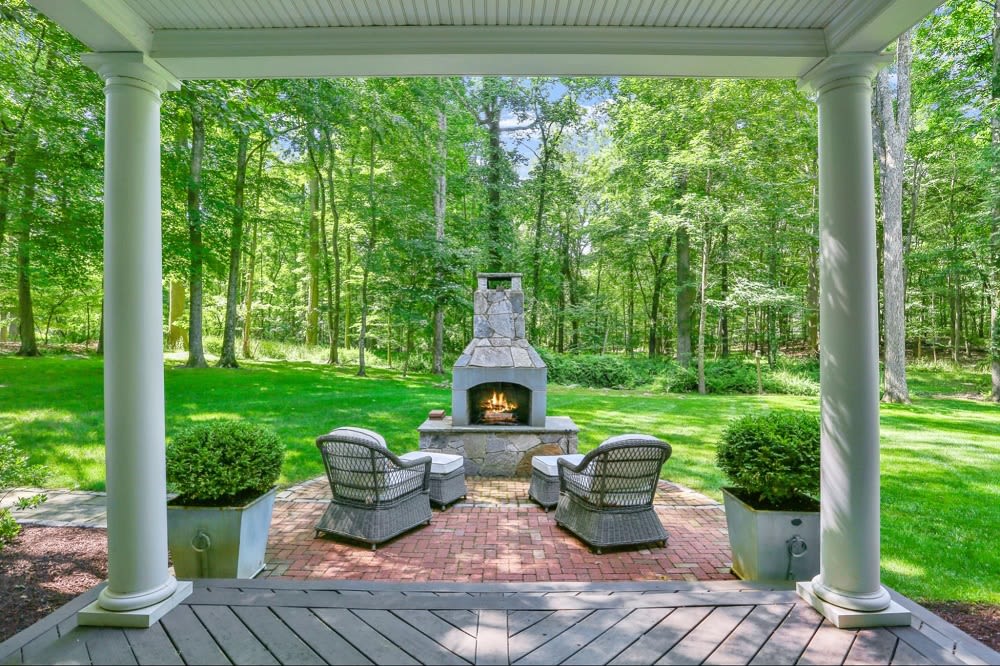 Home Successfully Sold by Cindy Raney & Team in Fairfield, CT

A well-designed fire pit and/or fireplace is an easy way to add a touch of elegance to your backyard. Many garden stores offer beautiful fire pits that are simple to install and require very little preparation. For a more dramatic renovation, include stone walls around your bluestone patio to create an intimate and cozy space. Arrange comfortable seating areas around the fire to encourage gathering. The result? A sense of tranquility that draws people in and invites them to spend time by the fire. Oh, and expect to end many of your evenings with a s'more.
3. Consider elements to promote privacy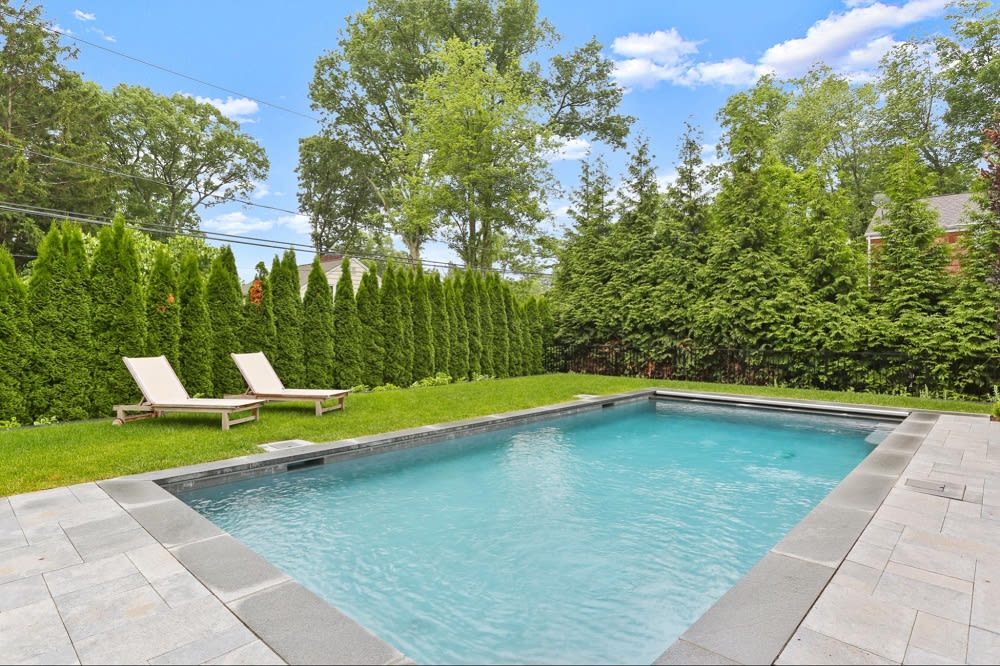 Home Successfully Sold by Cindy Raney & Team in Westport, CT

Privacy is a crucial consideration when designing your outdoor space as it directly impacts your comfort, relaxation, and overall enjoyment of the area. It creates a sense of seclusion, enabling you to unwind, sunbathe, read a book, or socialize without feeling on display. A private outdoor space fosters a peaceful and tranquil environment, shielding you from external distractions and disturbances while enhancing the overall experience for both you and your guests.

From a design perspective, there are various approaches to achieving privacy in your outdoor space. You can consider incorporating fencing along with natural screening, including hedges, plantings and trees. These options allow you to craft a secluded oasis that not only aligns with your aesthetic vision but also provides the level of privacy you desire.
4. Create amazing outdoor seating areas
You can upgrade your outdoor living space by designing comfortable seating areas that invite guests to relax and enjoy. The key factors to consider when choosing outdoor seating are comfort, durability, and functionality. If you opt for fabric seating, choose materials that are easy to clean and are fade proof and weather-proof.

Lighting is also a great way to enhance your outdoor atmosphere. You can choose from a variety of options, such as solar lights, LED lights, or hanging lanterns, to create an inviting ambiance at night. By strategically incorporating lighting features such as pathway lighting, you can not only elevate the overall appearance of the space but also ensure ease of navigation for your guests.
5. Make your pool house something special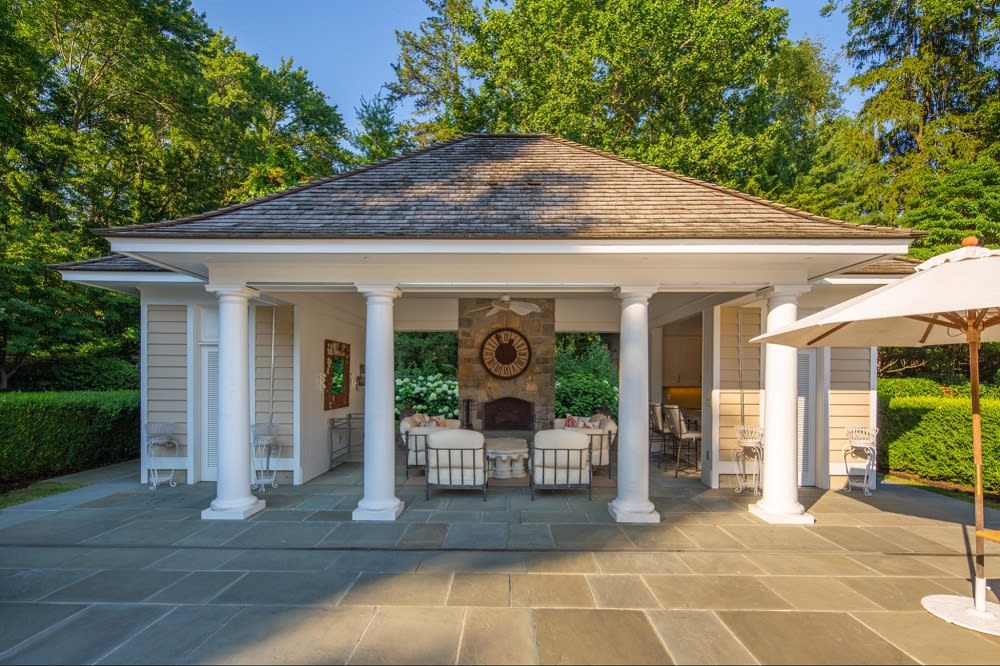 Home Successfully Sold by Cindy Raney & Team in Fairfield, CT

Transforming your pool house into more than just a storage space allows the opportunity to create a purposeful and convenient outdoor amenity that compliments your poolside experience. By incorporating a selection of high-end features, you can elevate it into the perfect setting for entertaining guests. Consider adding a well-appointed bar area complete with stylish stools, abundant counter space, and a refrigerator to keep beverages cool. For added enjoyment, install an outdoor TV to broadcast a favorite show or an exciting sports game. Also, for practical convenience, don't forget the inclusion of a functioning bathroom! This will help guests avoid getting the floors wet in your home.
Find the perfect home to bring your outdoor plans to life with the right real estate agent
The perfect luxury home experience begins with a Fairfield County realtor who understands the Fairfield real estate market and desired lifestyle. An experienced agent such as those at
Cindy Raney & Team
can help you narrow down your options and identify the type of Fairfield home that best suits you. They can also help connect you with trusted local vendors to bring your outdoor projects to life.