Moving to a new home can bring bitter-sweet feelings, especially for those downsizing. You may be anxiously awaiting your new home and all the exciting things that come with a new location and still feel anxious about leaving your old one behind. After all, our home is an extension of who we are, filled with memories from our time living there.
However, sometimes the home you have no longer suits your lifestyle and it may be time to move on to a place that is more aligned with your current needs. This can be a trying time for homeowners, not knowing where to start.
Cindy Raney & Team
fully understands the complex emotions and logistics that go along with downsizing and has helped multiple clients in the Westport, CT area and Fairfield County at large do so. With a full service approach, you can rest assured the process will be as smooth, seamless, and stress free as possible.
Why homeowners downsize
There are multiple factors that prompt homeowners to downsize. Specifically in our area, many individuals opt for large homes with expansive properties to raise their families in, but these come with high maintenance costs. Once their children have moved out and they realize they no longer utilize all the space, they often contemplate downsizing. They seek a more manageable living situation, such as a smaller home, condo, or townhome, which allows them to travel and enjoy life without the burden of maintaining a large property. Additionally, we have assisted clients who have recently experienced major life changes, such as the passing of a spouse or a divorce, leading them to consider and/or require downsizing. Since each situation is unique, we collaborate closely with our clients to create a comprehensive plan tailored to your specific needs and guide you through every step of the process.
Taking the stress out of downsizing
The key to taking the stress out of downsizing is to hire
the right team
. Downsizing is not something you have to do alone. A professional can make the process quick, easy, and efficient, saving you time, money, and stress.
24/7 Service
Whether you need advice when decluttering, help finding a more suitable home, or someone to simply just listen, our team is there to help. Our full-service model offers a unique, concierge-style experience that sets us apart from other Westport realtors. With our team approach, you can count on timely responses to all your questions and concerns, and someone by your side every step of the way. When you choose Cindy Raney, you gain access to an entire team of dedicated individuals who are committed to making your downsizing journey a success. We value our clients and ensure that you never feel left in the dark during this important transition.
Getting ready to move
For many homeowners looking to downsize, figuring out what to do with their belongings can be overwhelming. We recognize the emotional attachment that comes with possessions accumulated over the years, and our compassionate team is here to assist you. We can help you sort through your belongings, offer guidance on the best course of action, and even connect you with experts in the industry who can handle it all for you if that is what you desire.

Furniture often presents a challenge for our clients. Many individuals have furniture that is perfectly suited to their current home but may not fit into their new, downsized space. To address this, our team can help you measure your furniture and determine whether it should be brought to your new home, sold in an estate sale, or stored.
Preparing to sell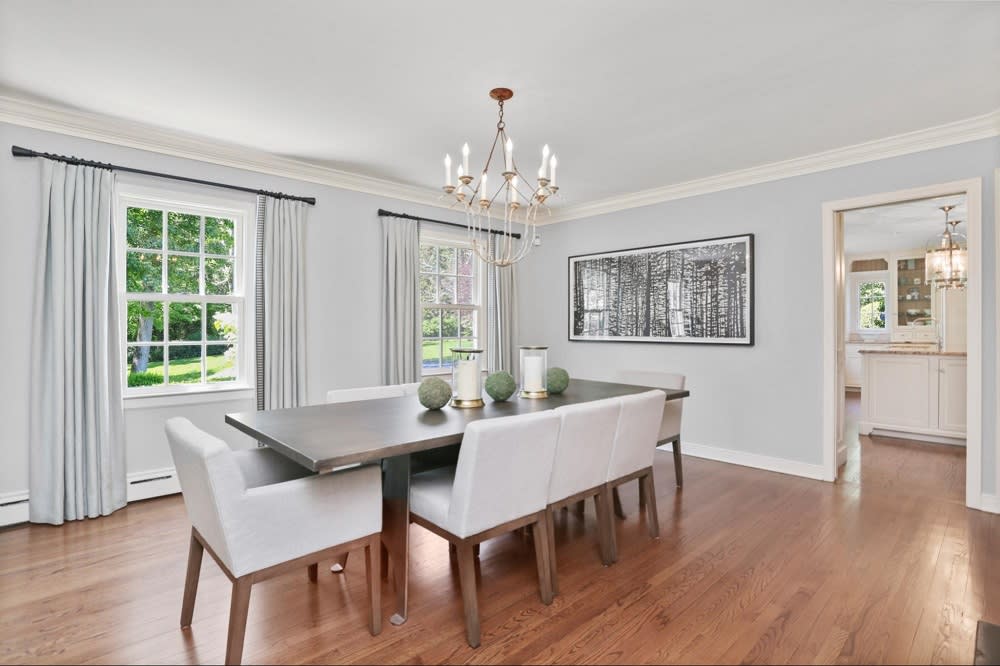 Home in Fairfield, CT sold by Cindy Raney & Team
Selling a home involves more than simply listing it on the MLS, especially if you want to sell quickly and for the best possible price. To showcase your
Westport real estate
effectively, certain steps must be taken. This may include the completion of updates, repairs, and staging to meet the expectations of today's buyers. With our extensive experience in preparing homes for sale, we have established relationships with top professionals in the industry who can help ensure your property shines. Staging, in particular, can significantly impact
the speed and value
of a sale by depersonalizing the space and accentuating its best features, making the effort and investment well worth it.
Your next home
Time for the fun part! Either simultaneously or after your home is sold, we will help you with your search for your next one! Leveraging our vast network of connections, both locally and globally, our team can access listings both on and off the market to find a home that fulfills your wishlist.

If you are moving out of the area, we can still be a valuable resource for you. Many of our Connecticut clients have relied on our assistance to purchase a home elsewhere through our network of top agents. Across the country, we have established relationships with reputable local market experts who share our commitment to exceptional service. We can refer you to these professionals, ensuring that you receive the same level of quality and care that we offer.
Ready to make a move?
You don't have to face the downsizing process alone. Whether you need resources for decluttering, packing, selling your home, or buying your next one, we are here to help. Reach out to
Cindy Raney
today to benefit from the strength and expertise of our dedicated team.
*Header photo:

Home in Fairfield, CT sold by Cindy Raney & Team