Spring has sprung which means restaurants all around town are opening up their patios and outdoor seating areas for dining. We've rounded up some of our favorite spots below - enjoy!
Bartaco
20 Wilton Rd, Westport, CT 06880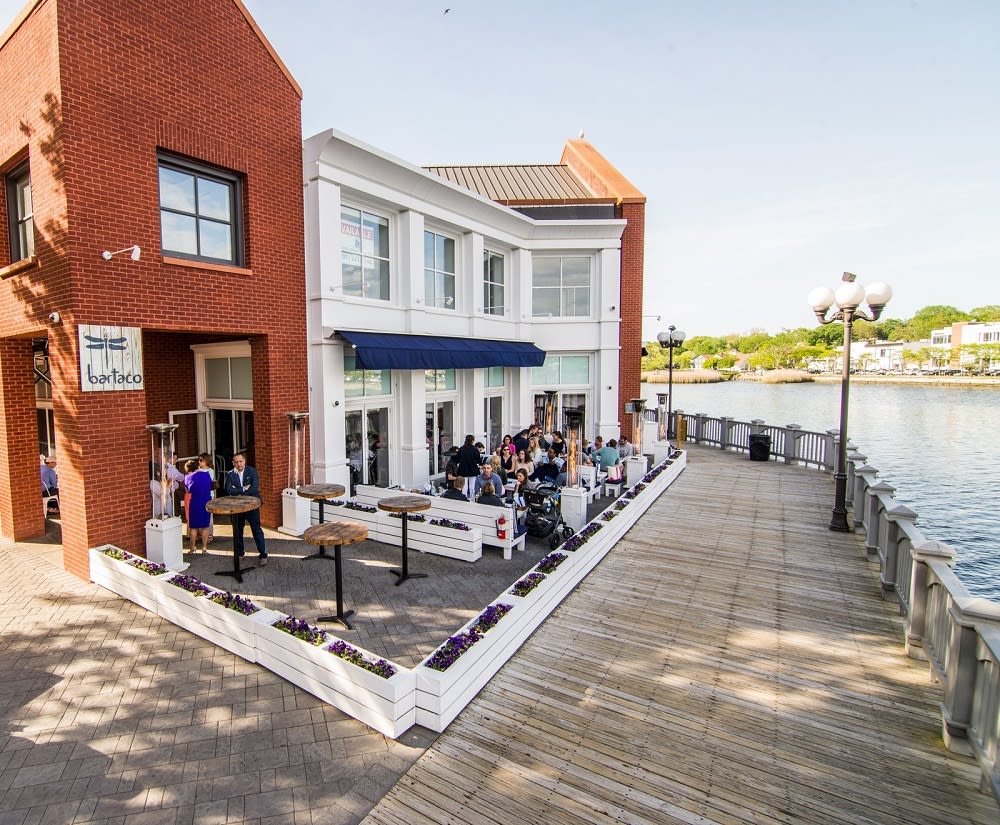 Photo courtesy of CityLifestyle
Bartaco
is an amazing spot for any meal. Visitors will find delectable tacos of all kinds, from Baja fish to roasted duck or mushroom with queso fresco. The atmosphere is laid back and friendly; it's the perfect place to relax and enjoy some delicious Mexican fare. Additionally, Bartaco offers outdoor seating right by the river, so you can enjoy a gorgeous view while you eat. Aside from tacos, other menu options include duck birria, roasted half chicken, glazed pork belly rice bowl, and more. Don't forget dessert! The key lime pie in a jar is always a hit.
The Whelk
575 Riverside Ave, Westport, CT 06880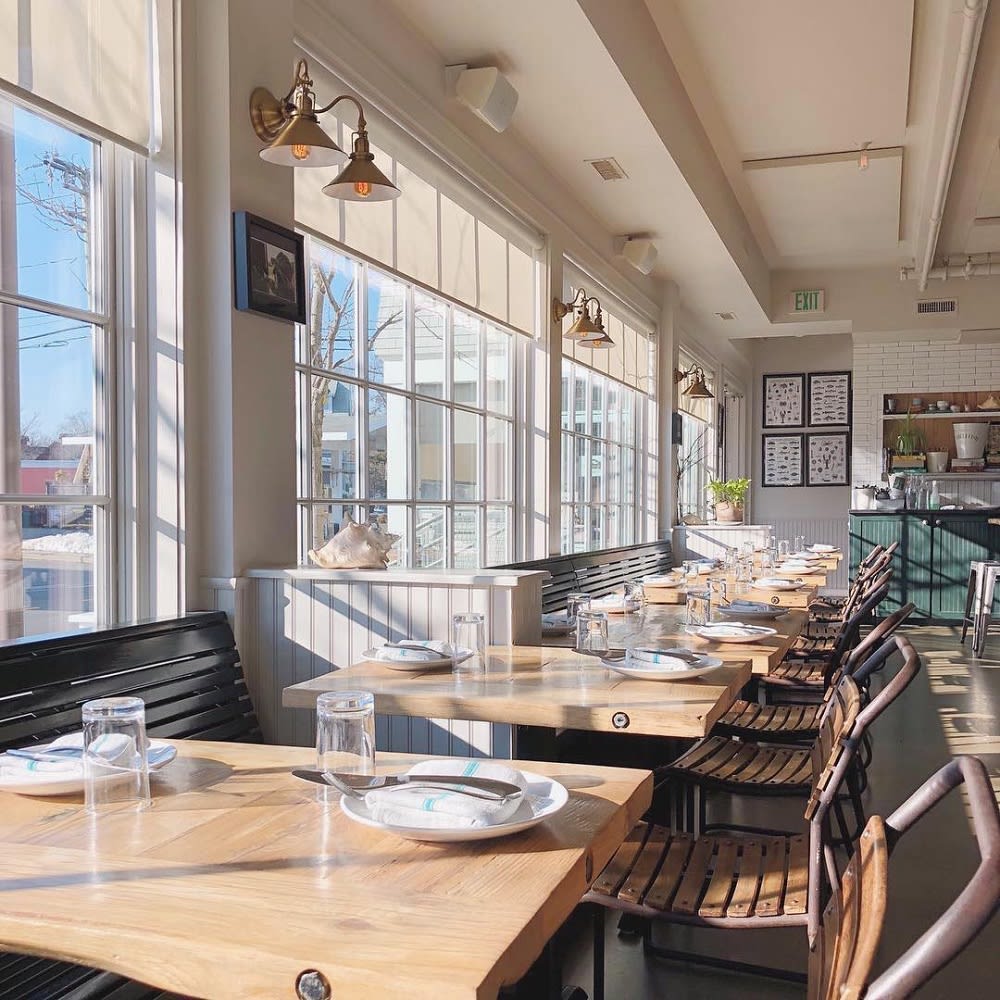 Photo courtesy of The Whelk
The Whelk
is a trendy seafood restaurant located right along the edge of beautiful, picturesque waters. The atmosphere is casual yet classy — perfect for a night shared with friends or an after work cocktail. Start your meal with the famous deviled eggs with fried oysters or the BBQ clams. The squid ink cavatelli, swordfish, or dry-aged beef burger make great entrees. Be sure to end your meal with the chocolate pot de creme or the almond cake. Don't forget to order a fun cocktail or cold glass of white wine to compliment your meal!
La Plage Restaurant & Oyster Bar
260 Compo Rd S, Westport, CT 06880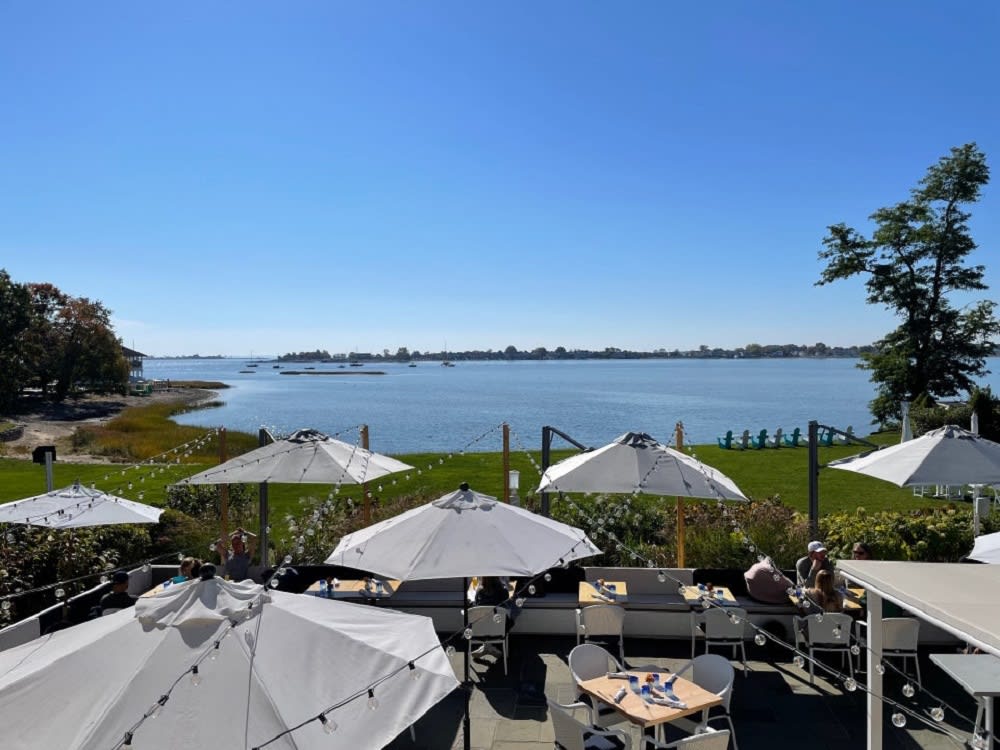 Photo courtesy of La Plage
La Plage Restaurant & Oyster Bar
is a great spot near Westport real estate for seafood lovers looking to enjoy some fresh, locally-sourced seafood in a unique setting. Located on the waterfront, the restaurant features a spacious lawn with seating right on the water where you can relax and have a drink while you wait for your table to be ready or enjoy the sunset after you finish your meal.
The dinner menu includes classic seafood favorites, such as oysters on the half-shell, oyster chowder, crab cakes, and lobster rolls. All of these dishes are prepared using only the finest ingredients sourced from local suppliers. The atmosphere is relaxed yet upscale, with attentive service that ensures each guest has an enjoyable experience.
The Boathouse at Saugatuck
521 Riverside Ave, Westport, CT 06880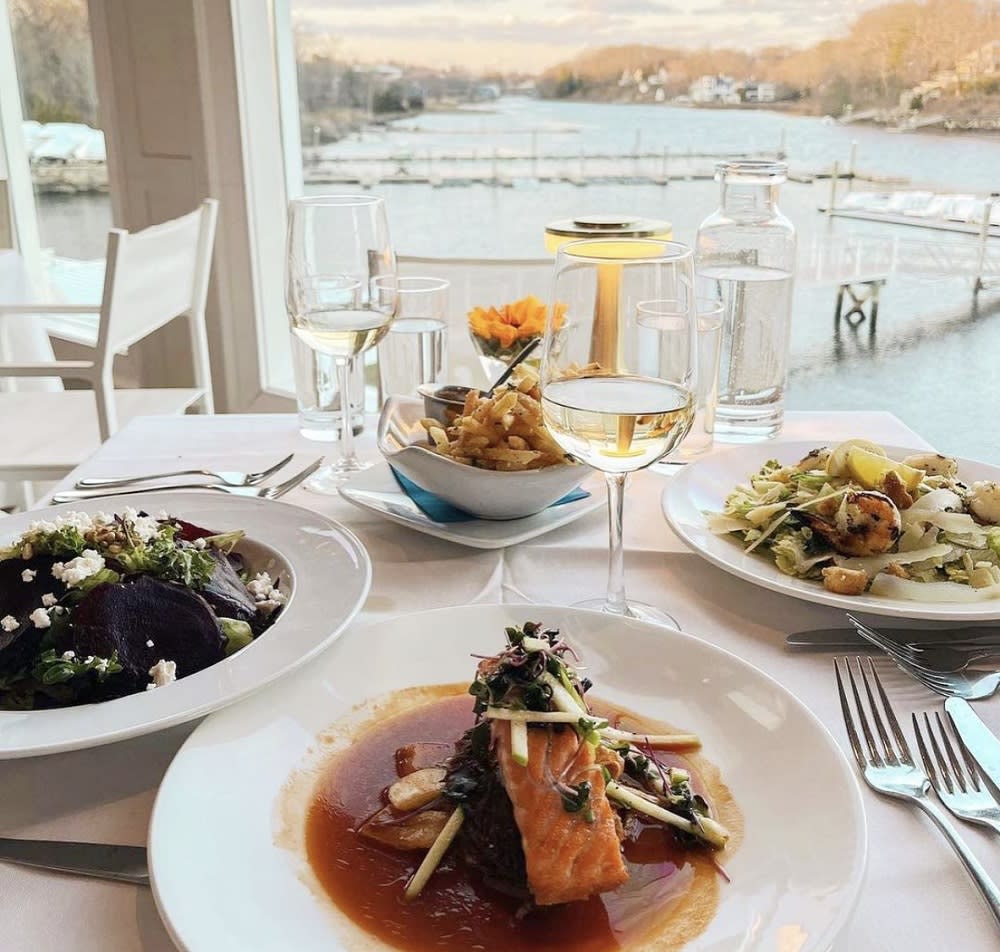 Photo courtesy of The Boathouse
The Boathouse
is situated on a scenic spot overlooking the Saugatuck River, offering amazing views and food alike. The menu features traditional favorites, with an emphasis on seafood, such as lobster macaroni and cheese, spaghetti alla chitarra, and a raw bar with clams, oysters, and a shrimp cocktail. For those looking for something more refined, there are also signature dishes like short rib pappardelle and braised lamb shank osso bucco.
Parker Mansion
541 Riverside Ave, Westport, CT 06880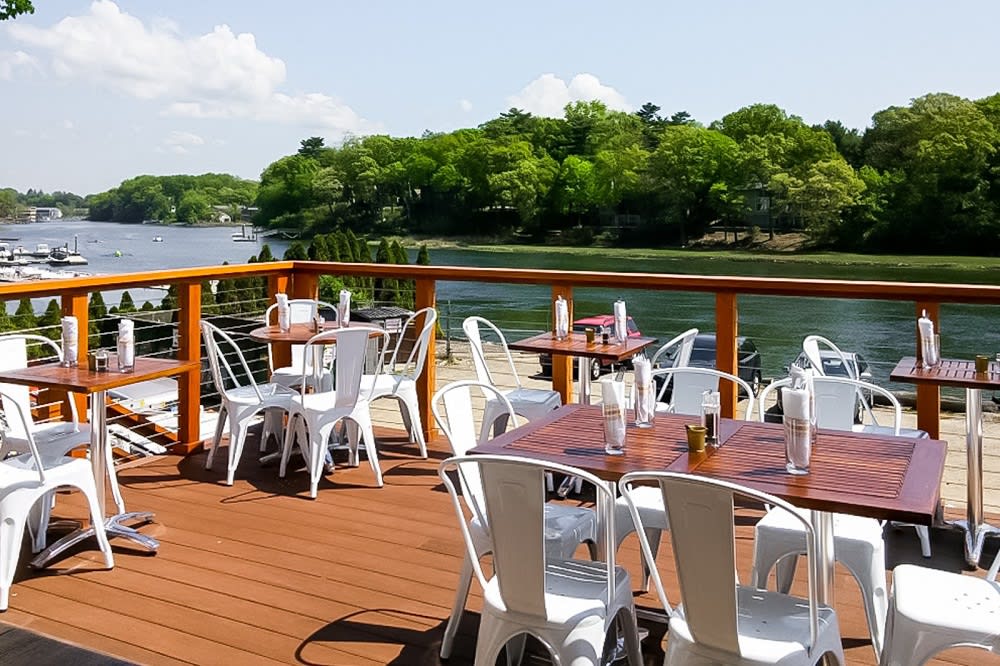 Photo courtesy of Parker Mansion
Parker Mansion
is a low key, casual restaurant with an impressive menu. Sit dockside at the picnic tables, on the second floor patio overlooking the river, or inside . Enjoy burgers and sandwiches or classic fish and chips. If pizza is more to your taste, choose from spicy Hawaiian, margarita, triple cheese, all the meat, or veggie. Other entree options include pasta with sausage, grilled Cajun salmon, and shrimp vs. clams. For dessert, the sea salt chocolate chip cookie or the coconut pecan carrot cake are local favorites.
Oko
6 Wilton Rd, Westport, CT 06880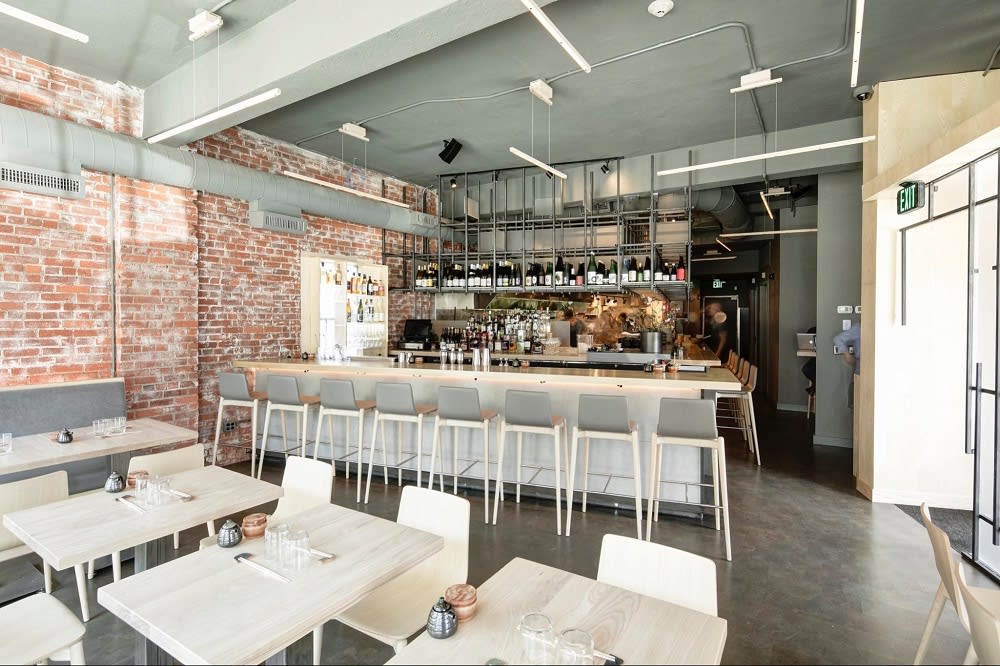 Photo courtesy of Oko
Also situated on the Saugatuck River,
Oko
is the perfect spot to relax and enjoy a delicious meal. The sushi served here is fresh and made with quality ingredients that make each bite flavorful. With options ranging from classic nigiri to specialty rolls, there's something for everyone. On top of that, Oko also offers a variety of other dishes like a teriyaki chicken bento box, miso soup, and dumplings.
Arezzo
5 Riverside Ave, Westport, CT 06880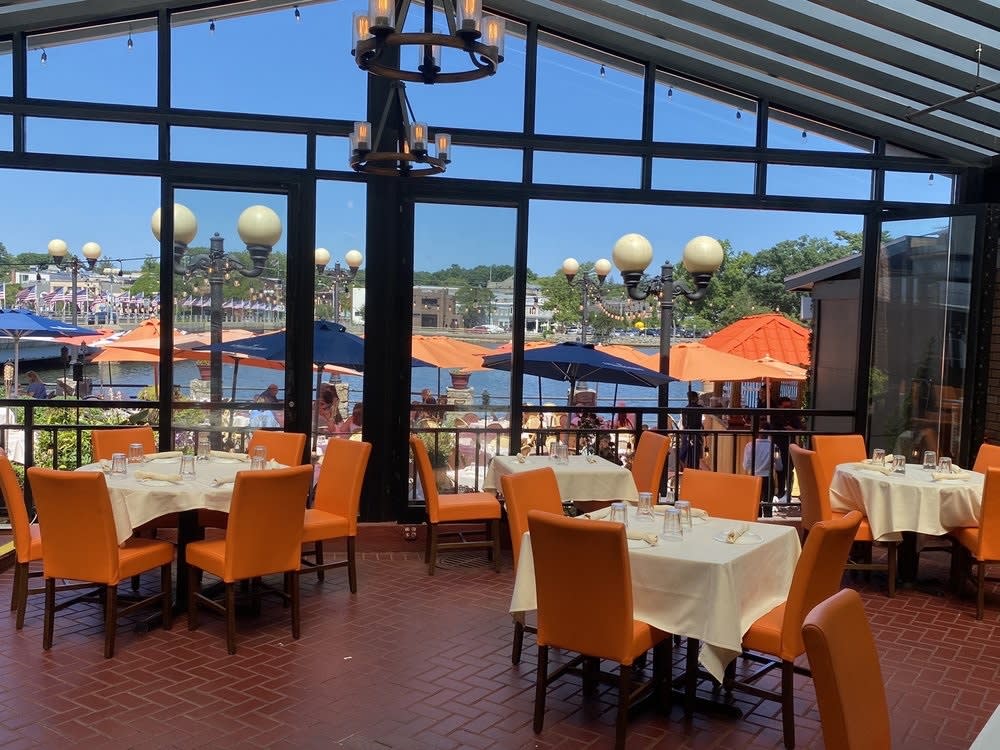 Photo courtesy of Yelp
Arezzo
is an elegant Italian restaurant that is situated on the waterfront in a beautiful, tranquil setting. Their sizable outdoor patio allows for dinner with a view. The menu features traditional Italian favorites, such as freshly-made pizzas cooked in their wood-fired oven, a wide variety of pasta, and classic Italian dishes like saltimbocca alla Romana and pollo scarpariello. For dessert, Arezzo offers classic tiramisù, tortino di ricotta, and a selection of gelati e sorbetti di la casa.
Rive Bistro
299 Riverside Ave, Westport, CT 06880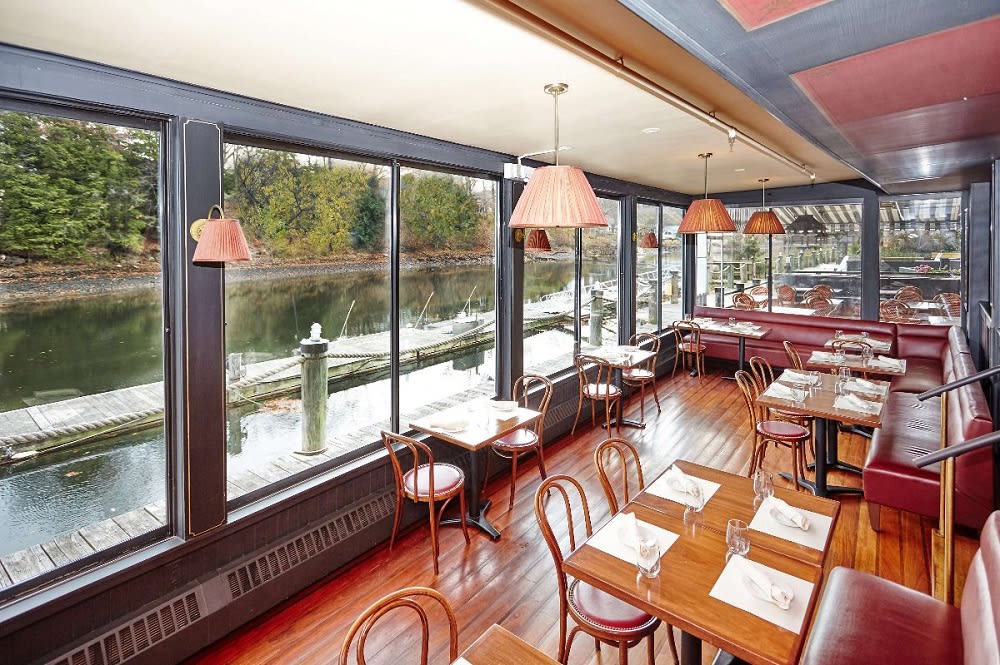 Photo courtesy of Rive Bistro
Rive Bistro
is a cozy and inviting restaurant located directly on the water near Westport real estate. The view of the river can be seen from inside the restaurant or from the large patio outside. Whether you're looking for a romantic dinner date or just want to relax with friends at brunch, Rive Bistro is a nice choice.
For dinner, enjoy appetizers like cheese fondue, baked brie crostini, or oyster au gratin. For your main dish, try the sauteed shrimp casserole, bouillabaisse, rigatoni lamb bolognese, or filet mignon.
For Sunday brunch, enjoy options like scrambled eggs in puff pastry, French toast, croque-monsieur, grilled Scottish salmon, or the steak frites.
Whether you're looking for outdoor views, a beautiful dining atmosphere, or simply the freshest seafood around, Westport, CT, restaurants won't disappoint. If you are considering making
Westport real estate
your new home, or are in need of any other local recommendations, reach out to
Cindy Raney & Team
!
*Header photo courtesy of La Plage